AUTHORS NOTE: Ya, I'm going to swear in this…
Ladies, I adore and worship you, but…
There is something in your DNA which makes the concept of time non-existent. I don't know what it is, but it's real. Maybe it has something to do with you being the creator of a human life or hormones or I don't fucking know. All I do know is many of you, and I have quite the sample size…
You have no goddamn clue as to what it is and what it consists of. But here is a little disclaimer:
IT'S NOT FUCKING INFINITE!
It's the one thing we can't get more of. We can't. Every second is a second LOST. We can't ever get it back. It's not being pessimistic, it's not being negative, it's not being a "glass is half empty",
It's being, well, fucking realistic…
And it's the one surefire way to piss off a guy. (By the way, YES, there are plenty of guys that are equally if not worse with time. They tend to take forever in the bathroom, wear way too much hair gel, and really dig Nickleback.)
I say all of that to say this:
When it comes to me and time, I'm a moody little cunt.
"I need my charger Keith, I NEED IT!"
Okay, I get it, If I didn't have my laptop charger, I'd be freaking out.
I wouldn't have left mine behind…but that's just me…So, we made plans on…
The Exchange
FADE IN
INT. My apartment – Bathroom – Day – Time 7:57 in the AM
Me (39) is getting ready for work with a maroon Better Homes Shedless Towel that does nothing but shed wrapped around my waste sucking on my Slim Soft toothbrush covered in Arm and Hammer whitening toothpaste.
Me: "What time?"
Her: "6:00?" She answers, yet asks…
Me: "Sure, where?"
Her: "Half way?" How someone can answer and ask at the same time blows my fucking mind, but…
Perfect! Saratoga Springs is about the halfway point, but I'll go a little further south, because I'm such a goddamn kind-hearted soul, drop it to her, angrily make out where I'll do some hair pulling, hopefully in her car and not mine, I'm right-handed. Go back to Toga, catch a movie (I did ask her, she said no, hence needing the charger. As for me, I'm in the middle of a script re-write, might as well do some research!).
INT. My Apartment – Night – Time: 5:26 in the PM
Her: "Hey, can we make it 6:30?"
I'm dressed in a pair of Guess Jeans that won't allow me to have my phone in my pocket and bend over at the same time. I did some writing, it sucked.
Me: "Sure."
Movie isn't until 7:15. Get there, still have time for angry session, time will be less but the intensity will be much angrier.
INT. My Apartment – Night – Time: 6:03 in the PM
Her: "Hey, I'm starving, can we do 7:30?"
Me: ………………………………………………………………..
Me (Cont.): "Ya, that's fine."
Ladies, "fine", ya, it means the same for us too when we say it.
INT. My Car – Night – Time: 7:11 in the PM
I'm cruising down the highway in my Honda Accord with a Kombucha and trying not to jerk the steering wheel as I'm itching my balls because of these goddamn jeans.
Bluetooth chime indicating a text.
Bluetooth Becky (What I call that saucy little minx. I love it when she tells me what to do. "Take left, NOW!" Ahhh, my skinny jeans just got tighter…just kidding, I write in the nude.):
Becky: "Hey, running late, I'll be there around 8."
Me: …I can't do this anymore…
I just broke up with my bluetooth.
INT. My Car – Night – Time: 8:03 in the PM
Why when there is snow frozen to your car, it just feels colder? However, at this moment no matter how bitter it is outside, it's not nearly as bitter as what is inside sitting in the Dunkin Donuts Parking Lot in Ballston Spa. Which sucks. Not only because of the aforementioned cold, but I have to drive through an obnoxious amount roundabouts. Like an obscene amount.
My phone rings,
Her: "Hey, I'm almost in Saratoga, where are you?"
Forgot to mention, she told me the Dunkin Donuts off of exit 12, but ya, she went to the one off of Exit 13 because her GPS told her to. If you can fucking make sense of that, then I will kiss your ring and call you king or queen because I don't have a goddamn clue as to how that happened. All I DO know is now I have to backtrack after sitting in my cold and appearing to be colder car thanks to said frozen snow for the past 23 minutes.
EXT. Dunkin Donuts – Saratoga Springs – Night – Time: 8:11 in the PM
I pulled alongside her car as if we were having an "oh we're so obviously performing a drug deal that it's obviously not a drug deal" moment…
Her: "Ugh, I'm so annoyed by this…"
I was looking at her, how cute she looked in her cute hat, and even though she was…she was fun…a lot of fun…all I'm thinking is "this will be the last time I see you" and:
Kissed her on the cheek and headed off back to my place wondering if I'm going to use a sock or tissues tonight…
INT. My Car – Night – Time 8:33 in the PM
Phone rings:
Her: "You seem upset".
I calmly (Trust me, the calmer the cuntier),
Me: "Am I annoyed, yes. I have a lot of work to get done, and now I have another night lost. So, upset? Probably. But I would definitely say I'm annoyed more than anything. "
Pretty sure my face is "heart attack" red as I'm reciting these lines as if they have been rehearsed since sitting at an Exit 12 Dunkin Donuts parking lot.
Her: "Oh, I'm sorry you didn't get to go to the movies."
Me: "Ya, I'm going to get off the phone now before…Ya, I'm gonna have to talk to you later…"
There are moments when I wish Alcoholic Keith would just erupt like Kilauea! He wouldn't have gotten off that phone. But, this guy, this guy didn't feel like making someone cry. Namaste.
A couple days later, I text:
"Good morning, so I wanted to simply say that I was too aggravated over something that had nothing to do with you. I have immense internal pressure to do what I'm doing right now and I viewed the other night as unnecessary. What you asked for me to do wasn't a big deal and that's so obvious a 5-year-old could point it out. This is why I stated a relationship is not healthy right now. For me or for anyone. And all that kept playing like a gif in my mind was, "this is why I don't want a relationship." I like you. I think that's pretty clear. But I do think we need an extended arm and say, let's take a breath."
Looking back…Looking back, I realize I misspelled aggravated. (aggrevated)
Days later, I finished my script! I did a quick scrub, my brain felt like it was about to start eating itself (you remember how I referred myself as the "fuzzy blueberry"? Aren't moldy berries the premise to every zombie anything? Infected, silently yet rapidly infects, the next thing you know you're keeled over the toilet wondering how you feel like you have appendicitis without an appendix?).
Anywho, sent off the script and headed back to Vt. to see family and do some laundry.
While there, my phone did the one noise that causes us to all look at our phone like we're so goddamn special:
And then again:
And again:
AND YOU KNOW WHAT IT DID? It did it a-fucking-gain!
You know what's especially douchey about facebook message scoldings? When it comes in multiple messages, it comes with that added "Fuck you" with every send. Not like a text where it's broken into 13 parts because if you exceed 180 characters, it somehow only has the capacity to deliver sentences.
I'm not going to recite verbatim what was written (Fucking deleted it. Trust me, I can't look myself in the eye knowing I was, am so foolish.), however…I haven't smoked away my memory yet…
Essentially, I was told I suck, like clinically suck, like I should go into the hospital and have myself admitted for sucking as much as I suck, like I need to then call my primary care and be prescribed an intense regime of pills to be taken with food every 6 hours for how much I suck, like I should seek out counseling where I must attend 4 nights a week, 4 hours a night, for 6 consecutive weeks in an establishment that treats people who suck, surrounded by brochures on "How to Cope with Sucking and Saving the Ones You Love", and sit with others who have either self-admitted, or were court ordered to attend each night while we watch films about sucking, starring Meg Ryan and Andy Garcia and discuss what we're going to do to change our lives of sucking so much?
Oh, and "I don't want to be your friend, let alone be in any "relationship" with you.
The latter is all her, all before that is how I translated the nonsense I was forced to read.
However, how did I feel when I read this?
DO NOT ASK ME HOW I FOUND THIS VIDEO. JUST SAY THANK YOU! How great is "Stoned Eddie Vedder playing the ukulele"?
Needless to say, I deleted her as a Facebook friend and blocked her…because she didn't want to be my friend, so as we all know, that means you get blocked, right?
I went to bed that night, on my freshly washed and fabric sofetned 400 Thread Count Sheets on my iComfort mattress (won this in the divorce settlement, WINNING!), I didn't have to worry about my script, or worry about being someone anyone would want to date.
Life is good.
It's a lonely, yet comforting feeling…
Monday, January 22nd, 2018 – The Day I Decided to Never Have Sex Again
I wake at 4am out of habit, and it's okay. I was in the middle of a book, the title is of no importance, however…Please play this song for background as you read:
4:59 AM…Phone rings.
I ignore.
She texts that she wants to talk.
I text back:
"(Name) You made your point. Goodbye and I wish you nothing but the best."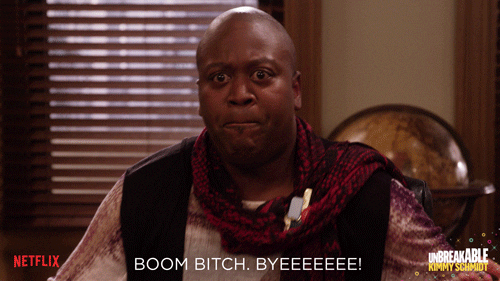 And this is where the guitar picks up and we're off…
5:02AM phone rings
Ignore
5:03AM Text:
"I want to tell you I'm sorry Keith. Can you please pick up?"
5:04 AM Call
Ignore
5:06 AM Call
Ignore
5:08 AM Call
Ignore
5:10 AM Call
Ignore
I'm trying to read a goddamn book on my phone and this shit keeps interrupting!
5:12 AM Call
Ignore
5:14 AM Text
"Keith, I'm sorry for what I wrote to you. I was scared of being hurt and wanted to avoid that. But it doesn't negate that you are a WONDERFUL GUY (of course she capitalized it…she didn't) You didn't just pop into my life for no reason. I'm not trying to pursue a relationship with you, though I'd be lucky to have that. I'd be blessed to have your friendship. I am truly sorry."
To summarize, she just reversed her entire position from 12 hours prior.
5:15 AM Call
Ignore
Tearful voicemail.
5:16 AM Text
"I would like to talk to you and wish we could have just talked openly about it."
Okay, ladies remember earlier when I said the thing about time? I hope you took that as a tip and not an insult. I know my delivery can cause some form of, well, confusion.
With that, another tip:
This isn't a fucking John Hughes movie! Calling the guy, or maybe your gal (so hot) 19 times isn't going to finally cause this penetration through their "Crazyproof Shield" and into their heart where they have this epiphany,
"My god, she loves me so much!"
No, instead it screams,
"Fucking psycho! Thank God I'm getting out now!"
So, what do I do? I go for a walk? Why? Because I'm a creature of habit. A creature of habit with a strained IT Band and iliopsoas. I can't run. At least I couldn't at the time.
When I return, I see this:
Jesus Christ…
I'm freaking, not much, but enough. Plus, it was a pretty nice Rosary. Then I remembered, she complimented my rosary! How long was I gone on my walk?
An hour…mother of God…
I wonder what it's like to live below me, because I pace. A lot! Especially when you're phone was ringing hours earlier like you're a phone bank for the fucking Jerry Lewis Telethon! Especially when the person on the other end of that phone, has somewhere within her your DNA. Especially when you have a goddamn rosary hanging from your goddamn door only hours after all of this shit!
So, it may be her…Or not.
It may be my neighbor downstairs who can't attend mass on Sunday. So, on occassion, I drop her off things : Palms on Palm Sunday, free Calendars when they hand them out. Just every once in a while. Like twice, twice a year. Palm Sunday, and when they have calendars.
Authors Note: As you can see by my actions and words, I'm clearly your typical, practicing Catholic. Amen.
So, it may be her.
I go to work, trying to shake off this hangover. My Mondays are jammed due to sales team, and one on one meetings I have with my staff. And you bet your sweet ass I'm telling them,
"Wait til you hear this shit!"
Especially Mr. "Who's Walking Down Broadway".
INT. My Car – Day – Lunch Time.
I go home and as I go back to my place like I do every day, I see my aforementioned downstairs neighbor walking.
I pull up aside her and ask,
Me: "Hey, did you leave a goddamn rosary on my door?"
Sweet Neighbor:"Oh no Keith, I would let you know if I was going to do something like that. Who do you think it is?"
Me: "No one you know, just a crazy girl I met online."
Sweet Neighbor: "Another one?"
I smirk…
She shakes her head, she has a crush on me.
Anyway.
I go inside my apartment, do a quick check, for well …you know…
I'm good. No bunny.
Eat lunch and go check the mail at our "island."
While walking back, this woman, who I don't know, but I've heard is batshit crazy. (We've got a couple here. One walks around "hooting" to herself. No shit, she will take a step "hoot", another step "hoot". It wasn't her.)
And she's kicking snow from under her car (yes she drives) to under the car parked next to her. She opens her backdoor and says something. I thought she was talking to an imaginary pet or some shit.
Truthfully, I was euphoric because I just got these wool argyle socks from Amazon in the mail. My office is freezing cold.
Lunatic Lady:"You better watch your step."
That's what I thought she said. Again, probably talking to Miss. Maple, her amber colored imaginary cat.
Lunatic Lady: "Ya, I'm talking to you!"
And she is staring right at me with her sunglass-covered eyes while it's completely overcast.
Me: "Excuse me." I quickly retort while hiding my socks scared that she may try to take them away from me.
Or, attack like the rabid cat that attacked me almost exactly 2 years to the day. No shit! And the sky was just as ominous. Making the sunglasses thing even fucking creepier.
Lunatic Lady: "You heard me! You better watch your step!"
Now, I'm ready to fuck somebody up. Especially some crazy lady (No, I haven't asked her out…yet.) screaming at me in the fucking parking lot while kicking fucking snow!
And then…
Me: "Tell me, WHY do I need to watch my step? Execuse me, you can hear me, I know you can, why? Huh? Why? Specifically, did I do something to you? Because I don't think I did. So, please tell me, what I did to you or why I need to watch my step? Choose, either one will do!"
I think while my tongue was deep within the "pfft" girl's mouth, I stole some of her soul.
Needless to say, no response. I mean, come on. I'm the best fucking looking dude in the complex. You may want to be nice to me.
Or maybe she knew the girl…HOLY SHIT! Does she know fucking bunny boiler? (she never boiled my bunny…I don't have a bunny. I have a plant:
My mind can't handle the possiblity of them having any sort of…
FUCK!!! What the fuck is happening?!?
So, just like I do whenever I cower:
Me: "Okay then, well, have a nice day!"
And she seriously got excited and returned the gesture. The inflection in her voice hit such a high octave that I was petrified of her levels of insanity.
I race back up to my place to not only call my landlord, but I was really excited about my socks!
Informed the landlord of the incident while praying for assurance I wasn't about to have something knocking at my door at 1AM in snow-covered snows, sunglasses on, wielding a scythe, telling me:
"I told you to watch your step".
Turns out this woman does this type of shit all the time.
Clearly I live in a gated community.
I walk outside, she's gone, and see my downstairs neighbor who returned home from her walk.
I look at her with "wait til you hear this shit" eyes.
I inform her as to what just happened, on top of all the shit from only 7 hours earlier, including the fucking rosary on my door, and now I'm being threatened by Lizzy Borden!
Sweet Neighbor: "Keith, she (lunatic lady) told me a few weeks ago that she came out to her car, she's crazy Keith! She came out to her car and her tire was flat. She calls AAA to come, Keith, she's crazy! She calls them to fix it. They show up and tell her that her tire has been slashed. She tells me she knows who, Keith, you know she's crazy right? She tells me she knows who did it. Keith, she goes to this church down the street where, Keith, they're all crazy there! She goes to this church and she, Keith, she makes jewelry…"
Mother…
Fucker…
To Summarize
Are you one of those that found or currently finds yourself not being attracted to those attracted to you?  Me too.  I think my problem is I can't respect anyone that would be attracted to someone like me…
Or…
I'm afraid of getting it wrong again. It's right up there with my fear of heights and bridges.  I'm so deathly afraid of getting it wrong, I have created a phobia called:
"Douchobia"
I don't know if any of what I do is right. I hope it is, I have faith that it is.
Someone asked my definition of God the other day, I said God is a brunette, green eyes, pale skin, slender yet curvaceous, and loves Jam Bands and the West Wing.
"So, you want to have sex with God?" She asked disgustedly.
"Oh, I'd love to have my face in the crotch of God."
For me, God is Hope.  We all have faith in something, right? And we all desperately want to be right.  For some, as long as they have God, they are right.  For some it's as long as they have their gun, and for some it's as long as they have their weed.
My Jennifer Connelly looking Lord is so much better than bong or an AR-15…
God, is what we want God to be. God confirms what he hold to be right, and true.
Point being, my God is hot and fun, as long as she watches the West Wing while drinking a kombucha.
Am I trying to simply get it right?
Am I trying to simply get it right and have it "confirmed", because I've already been wrong?
Am I try to simply get it right because I don't want to get it wrong ever again?
Or am I simply waiting to get it right with my green-eyed, looks great in a pair of yoga pants while jamming to Phish, God?
I don't know.
Lately, I've been really into the Late David Foster Wallace.  I'm reading a book of his called "Infinite Jest".  Many of you may have heard of him from his notorious "This is Water"…
In it, he first tells the joke of two young fish swimming along, until they come across an older fish who asks,
"How's the water?"
As they swim along afterward, one of the young fish looks at the other one and asks,
"What the hell is water?"
I think my dating life is water…
Years ago, my friend Chuck said I serve to the God of "Pussilitus".
I see his point.
That's why I decided after all of this, it was time for a much-needed respite.
However…
I realized today was Palm Sunday.  Which means only five more days of Lent…Which means come Friday, Good Friday Morning…
I'M BACK!
FADE OUT
-k
Folks for all of you that read all three of these:
The Rosary: A Story of Lust and Celibacy… Part One
The Rosary. A Story of Lust and Celibacy, Part Due. (In Italian two is "due". Not due, like "your bill is due". Due, like a Candadian, asking if you're drinking a Mountain Dew. "Dew, Eh?" Due, two, Italian, learning to speak it.)
The Rosary. A story of Lust and Celibacy, Part Three
I hope you enjoyed. They were fun to write.
I've since decided it's time to pursue writing as a full-time thing. So, as a favor to helping me achieve this, please like, follow, and/or share.
If you'd like to contact me directly:
kth08250@gmail.com
THANK YOU, ALL!
-k